About KEXP
KEXP is a Seattle-based nonprofit arts organization serving music lovers through in-person, broadcast and online programming. The Factor team included long-time KEXP listeners, thrilled to have an opportunity to contribute to this cherished organization.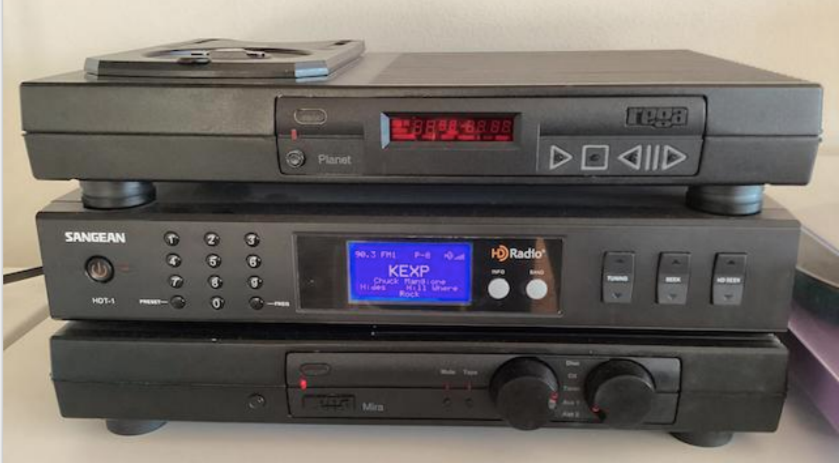 KEXP's Challenge
There's a Patti Smith interview recording on tape in a box in a basement, a track list of songs Mark Lanegan played on that lives only in DJ Cheryl Waters' head, a video recording of an in-studio performance, a blog post, a podcast, etc. KEXP has 50 years' worth of content like this, but there's no way to search or browse across the various media types or to quickly pull together a collection related to an artist. Currently, KEXP DJs and producers scramble to do this kind of stuff in real time, for example, on the day of Mark Lanegan's untimely death.
Factor's Approach
Understand user information needs 
User Research (1:1 interviews and ride-alongs with DJs and producers, group interviews bringing together cross-functional staff) to understand publishing and metadata workflows further illuminate content types and pain points.
Stakeholder deep-dives into asset management technology to understand capabilities and limitations.
Education, Strategy & Alignment
Foster stakeholder alignment, throughout the project and during initial workshops and taxonomy 101-style educational sessions.
Discovery
Factor was initially brought in to build a taxonomy and metadata schema for KEXP's 50th anniversary campaign, but everybody wanted to talk about broader information problems. In other words, the information layer was missing or inadequate, and the problems went beyond the scope of our initial engagement.

DJs and producers struggled to find content across media types.
A KEXP fan was doing a better job of aggregating content than KEXP itself!
As our discovery phase of this project progressed an overarching theme of "Storytelling"and "Community" emerged.
Members of the KEXP team expressed pain points around findability. Many people we talked to had some general anxiety around "the pain with no name", specifically around the amount, quality, and findability, and classification of internal assets.
Solution
Information model 
Factor developed a metadata schema for blog content that served as a proof of concept to test, and eventually apply to additional content/media/asset types. The question guiding Factor's research and design of the content model was, what stories are being told with music?
Taxonomy 
Factor drafted a 50th anniversary taxonomy, which met the needs of the engagement but was structured to enable scalability across the wider KEXP ecosystem.
Strategy
Ultimately, KEXP stakeholders came to align around their new understanding of how the information model and taxonomy (a well-designed "information architecture") could help them tie different types of assets together in a holistic way across systems, formats, and channels.
Return
They have a model for creating a full taxonomy for the music library and associated content
If they are able to build out the taxonomy and tag content, they'll be able to provide a much richer content experience to complement the on-air experience, sharing previously inaccessible stories, recordings, and commentary with a wider audience.