Challenge:
Adobe had no shortage of "learn, help, and support" content for their creative software tools available online, but they knew that their fastest-growing segment–novice users–struggled to find answers to seemingly simple questions such as "how do I crop this photo"?
Their challenge was simply, "How can we make self-help easier?"
Approach:
Factor carried out qualitative research studies with novice users of Adobe software in order to understand their information needs and mental models. From there, we developed a metadata model for "learn, help, and support" content that would support navigation and findability.
Discovery:
User Mental Models and Language: Adobe lacked a clear understanding of user language, mental models and workflows around seeking help and support content.
Content: At the start of the project, the content lacked the metadata necessary to support findability and analytics.
Metadata: Since there was no content model, there was no strategy for applying metadata to describe content, leaving users with no insight into the subject and meaning of content items, and no clear way to discover content relevant to their needs.
Governance: Adobe faced myriad challenges with its ability to create, manage, maintain and govern its Learn, Help, and Support content, including lack of content, redundant content, content of ambiguous provenance, "orphan" or ownerless content, and outdated content.
Solutions:
Created 15 personas for Adobe and deeply explored Novice, Trialist, @Work, and Creative Professional behavior across scenarios and products.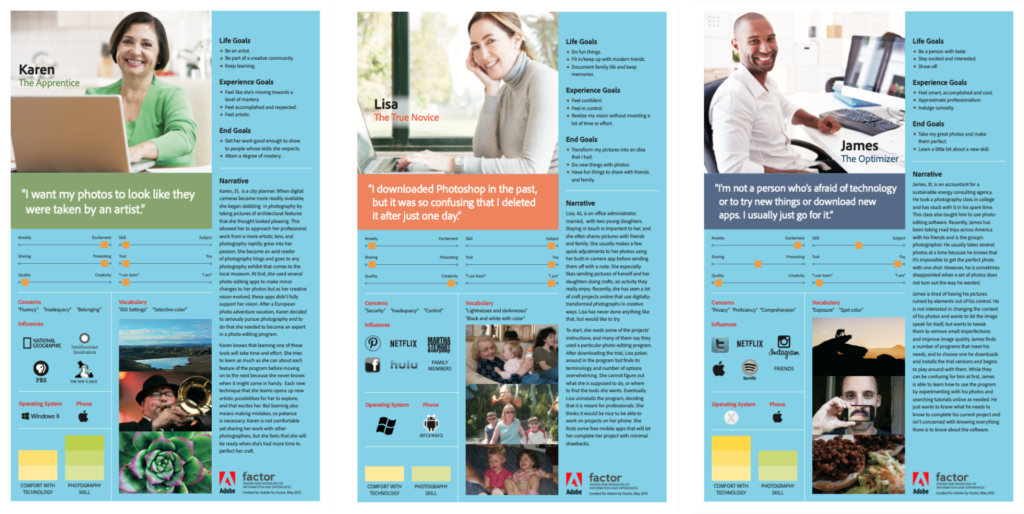 Factor delivered a Roadmap of capability development for Adobe Self-Service based on a pathway of organizational readiness milestones.
Factor mapped the content workflow ecosystem to tag and maintain content in a durable, sustainable way.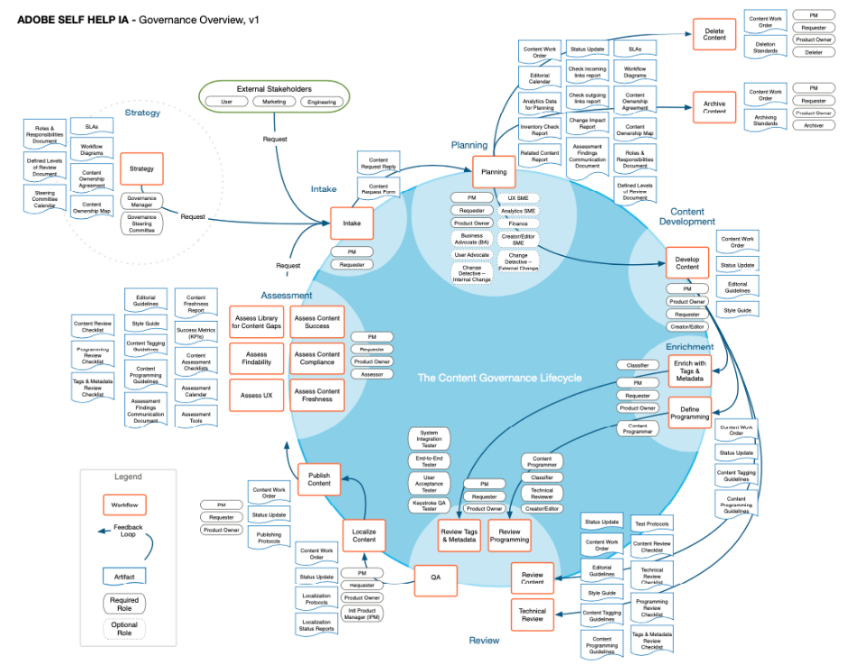 Factor created a content model to define the content types, the relationships between them, and how they would interact with the information model.
Returns:
Applied metadata-driven navigation and filtering best practices to "Learn, Help, and Support" content to improve findability.
Clearly defined the difference between tasks, problems, concepts, questions, tools or features, and products.
Established a set of core concepts into a coherent taxonomy that describes subject and meaning within Learn, Help & Support content.
Gave content creators workflows to tag content with keywords in a manner that is flexible but still controlled.
Provided the ability to draw a keywords report every few weeks to identify source terms for the controlled taxonomies.