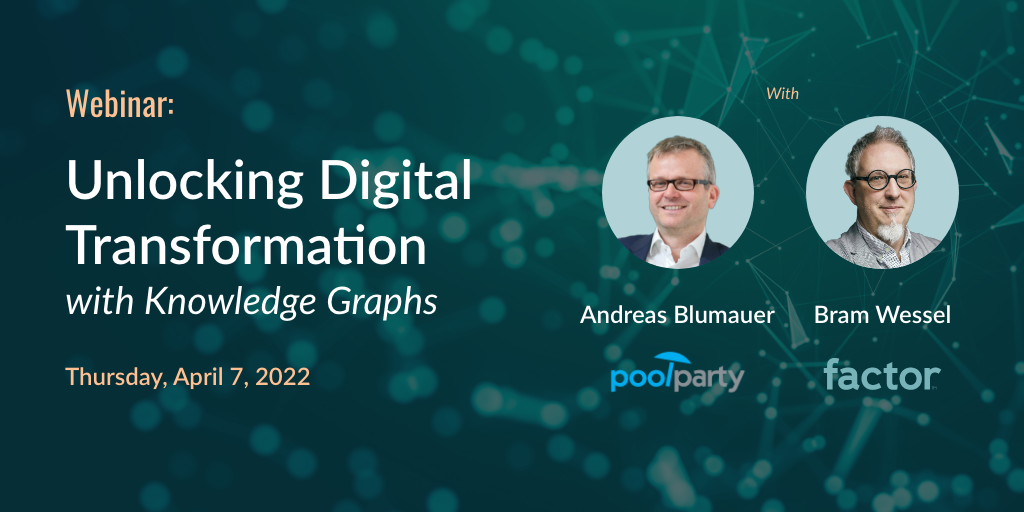 Andreas Blumauer, CEO and co-founder of Semantic Web Company (SWC), and Bram Wessel, Founder and Principal at Factor discuss how organizations can use Knowledge Graphs to build the right foundation for Data Transformation.
Originally aired: Thursday, April 7, 2022
The webinar at a glance – key takeaways
Diagnose Digital Transformation roadblocks to help your organization get unstuck
See how to unlock the potential of Digital Transformation by harvesting the intelligence from your data
Understand how foundational Knowledge Graphs can help you quickly spin up advanced data-driven capabilities
Years into the Digital Transformation era, we are arriving at a point of consequence. Many organizations have invested in heavily in Digital, but most have yet to see ROI live up to the promise. And the pressure keeps mounting. So some forward-thinking organizations are building on Digital Transformation with what is now being called Data Transformation, which is the shift from simply accumulating data to extracting tangible business value from it by becoming a truly digital, truly data-driven organization.
What is missing is a 360 degree view; an enterprise-wide structure for business information. But a new solution for this challenge is emerging using an idea that's been around for awhile — the Knowledge Graph. With the right enterprise information architecture and tools, Knowledge Graphs can unlock the promise of Data Transformation.
In this webinar, we'll show you how your organization can use Knowledge Graphs to build the right foundation for Data Transformation, reducing time to value for key business use cases, unlocking advanced capabilities with ML and AI, and transforming your growing reservoir of data from a management headache into a core strategic advantage.