Authors: Theresa Putkey, and Gary Carlson
Most business organizations know they should manage their information and content. It's easy to sink a lot of time and resources into creating, capturing, curating, and codifying content without realizing any tangible benefits. Indeed, without an Enterprise Content Strategy (ECS), any strategic content management process is like driving without a map.
An Enterprise Content Strategy is a compass that ensures your content and expertise move your organization towards a specific destination: Your business strategies and priorities. Your content is not an abstract (or burdensome) monolith, but an essential asset that requires, and drives, staffing, content creation management process, technology, and planning decisions across the organization
This blog post addresses:
Why an ECS is essential for achieving business priorities and objectives.
The impact of an ECS on internal business functions.
The essential components of an Enterprise Content Strategy.
How to diagnose your organization's content strategy maturity.
What is an Enterprise Content Strategy?
An Enterprise Content Strategy is the main thoroughfare between your business priorities and the content driven experiences (internal and external) that support them. An effective ECS guides how every part of the organization creates, shares, and accesses content in support of the overall business goals. The processes need to be specific, replicable, and measurable.
What Business Functions Does an ECS Support?
An Enterprise Content Strategy is the compass for every business function within an organization. It codifies the language, metrics, workflows, and content that allows:
Marketing to target audiences across multiple touchpoints and experiences.
Analytics and reporting to ensure their input data is comprehensive and accurate and their output reflects core indicators.
Major organizational initiatives (DEI, employee engagement, internationalization, etc) to reliably depend on content and information.
Compliance and regulatory needs
Sales and post-sales content support for both customers and your sales team
Product information and content management
Governance and workflow processes
Human Resources Staffing and resources to support content creation, governance and workflow
IT Integrations to function smoothly
Operational efficiency is often overlooked as a benefit from an ECS, however, the content strategy is essential for determining which content should be created and which content should not be created. Also, it can be an important tool in reducing the amount of duplicative content.
Bates described key elements of information-seeking behavior that provides a backdrop for parsing and converting an utterance to a query. This required a pretty large mindshift for developers. The ontology provides the capability to support this process, but the interface and interactions still need to be incorporated.
The Essential Components of an ECS
Four critical areas form the foundation of an Enterprise Content System:
The Editorial Content Strategy is the roadmap that informs how the content which end users interact with is created and curated. The Editorial Content Strategy identifies the goals and message of the content and how /when it is created and distributed.
The Technical Content Strategy focuses on implementing the digital experience infrastructure: the content, taxonomies, metadata, integrations, search services that are the foundation necessary to execute the Editorial Content Strategy.
Content governance applies to both the editorial and technical aspects and outlines workflows and processes required to support the editorial and technical content strategy and goals.
The Information Layer provides semantic consistency across systems, channels, audiences, and users to support delivery and analytics. Taxonomies, knowledge graphs, ontologies make up the information layer and it is the foundation for stitching together enterprise-wide workflows, analytics, experiences, etc.
Impacted Teams and Stakeholders
Enterprise Content Strategy requires involvement from a wide range of roles and teams and throughout an organization. Different aspects of enterprise content strategy impact the following roles and teams, including: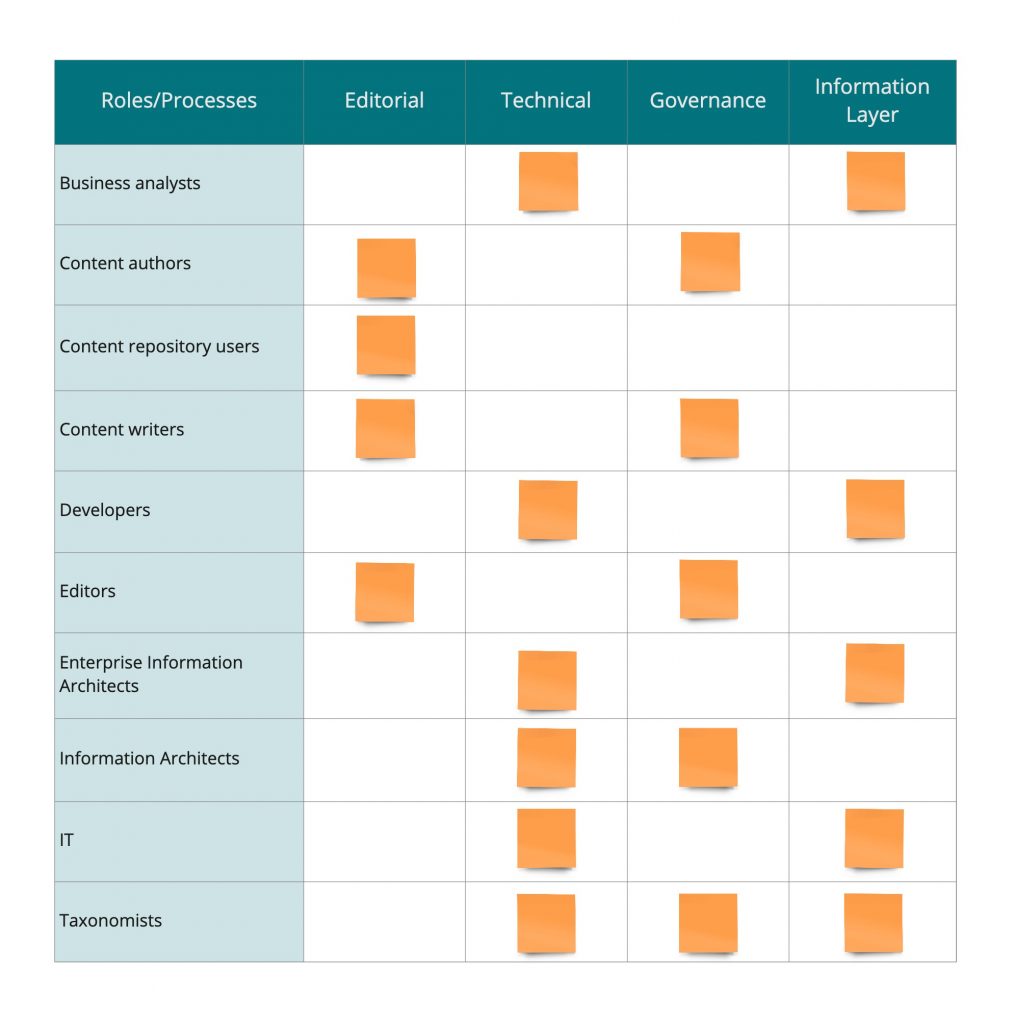 Any successful ECS requires that the roles involved are fully incorporated into the process, are part of the training and communication plan, and have the mandate (and job description) necessary to play their essential role.
The Information Layer stitches the content together across systems, channels, audiences, and users to support delivery and analytics. Taxonomies, knowledge graphs, ontologies make up the Iinformation Llayer. This is a key component of the content strategy. It is managed and addressed in the technical content strategy, but is used extensively in the editorial components.
Maturity Model
Factor has developed an approach to understand an organization's Information Maturity. Gains in stages 1, 2 and, to some extent, 3 can be made with a limited Enterprise Content Strategy. However, to move from Stage 3 to Stage 4, in this model, an organization must have adopted an Enterprise Content Strategy.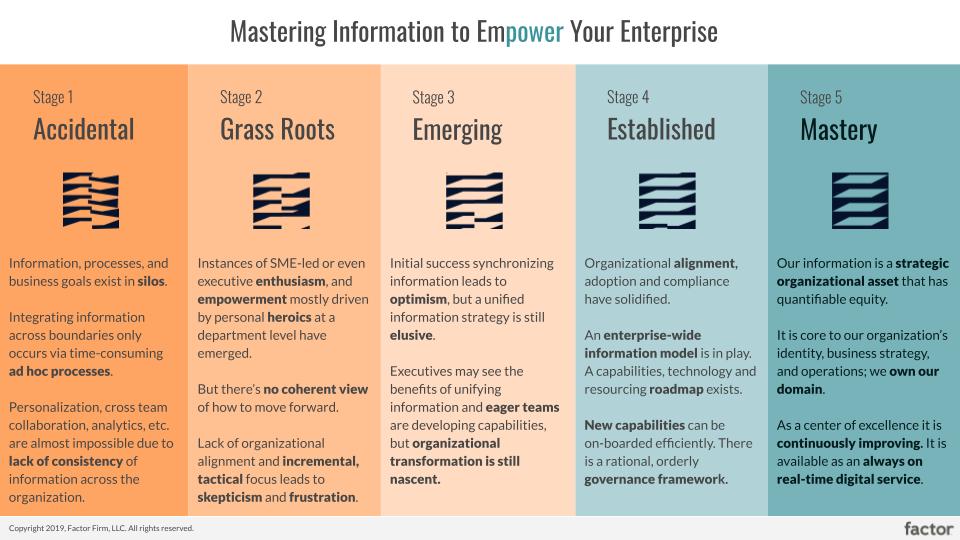 This is where instrumentation becomes important. In other words, it's no longer simply writing content, putting it in a content management system, and then forgetting about it. Enterprise Content Strategy addresses content being used across audiences, websites, systems, teams, processes. An ECS turns content into a strategic reusable asset. You can read more about our Maturity Model here.
How Do All the Pieces Fit Together?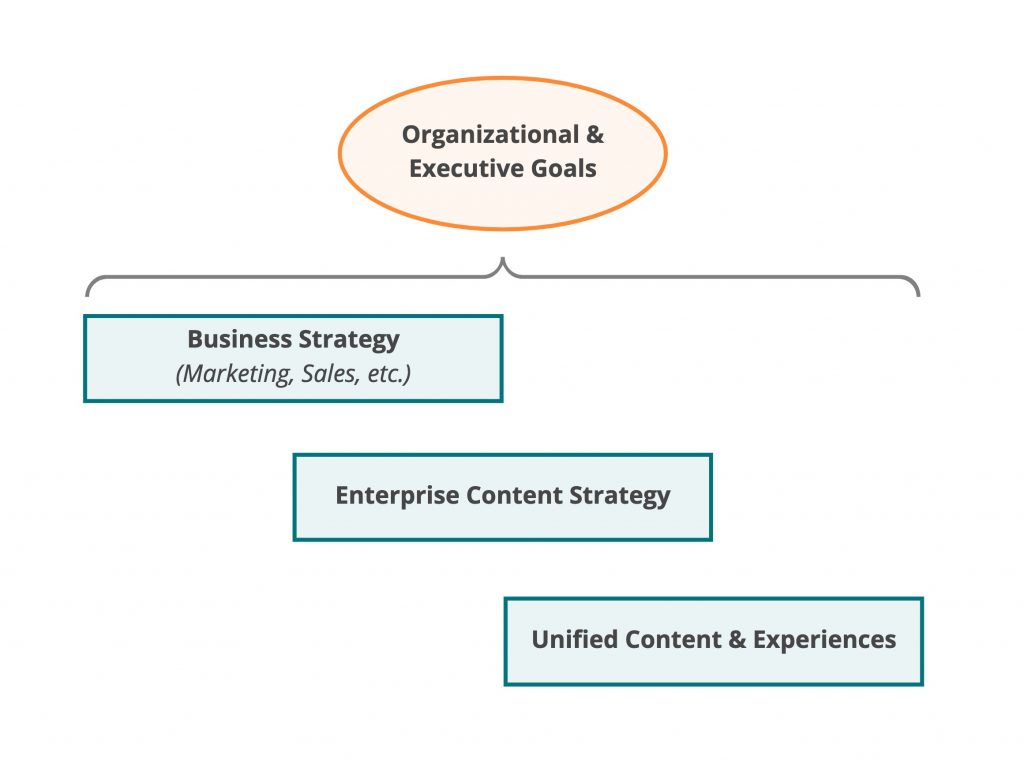 The organizational and executive goals are the high level drivers for an enterprise and are generally translated into action by different business units. For example, if an organizational goal is to increase customer satisfaction across the customer lifecycle, this may translate into:
Addressing flaws and bugs in existing products rather than building new features
Improving experiences and content for the support site
Providing more consistent and targeted marketing materials
Focussing marketing material on solutions rather than individual product
Enabling the sales team to be better qualify and target customers and prospects
The ECS defines the approach and role of content for addressing these needs. The technical and editorial content strategy components are seen in this diagram: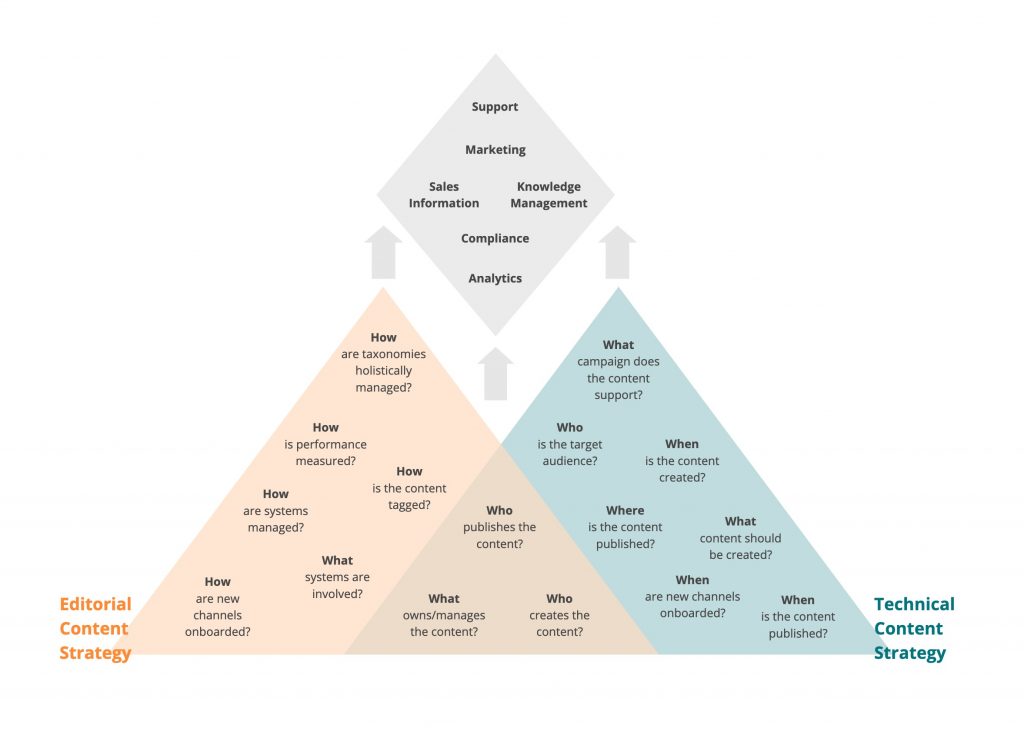 Final Thoughts
When an organization is able to answer the majority of the questions in this diagram they are well on their way to being able to effectively plan and utilize their content in support of key organizational capabilities. Not only will decision makers know what kind of content to create, they will know which content does not need to be created. Questions around how to tag content, where to store it, who needs to approve it, how is it kept up to date, and why are we even creating it can be answered definitively.