Hi, I'm a taxonomist, and I'm here to help you with your content publishing workflows!
You might think all I do is hide away in a corner classifying things and making lists of terms. But the truth is, I only do that after I have analyzed your content, content strategy, content publishing workflows, existing taxonomies and metadata, and content consumer (or user) needs.
I made this diagram to help show how it all fits together (or most of it, anyway).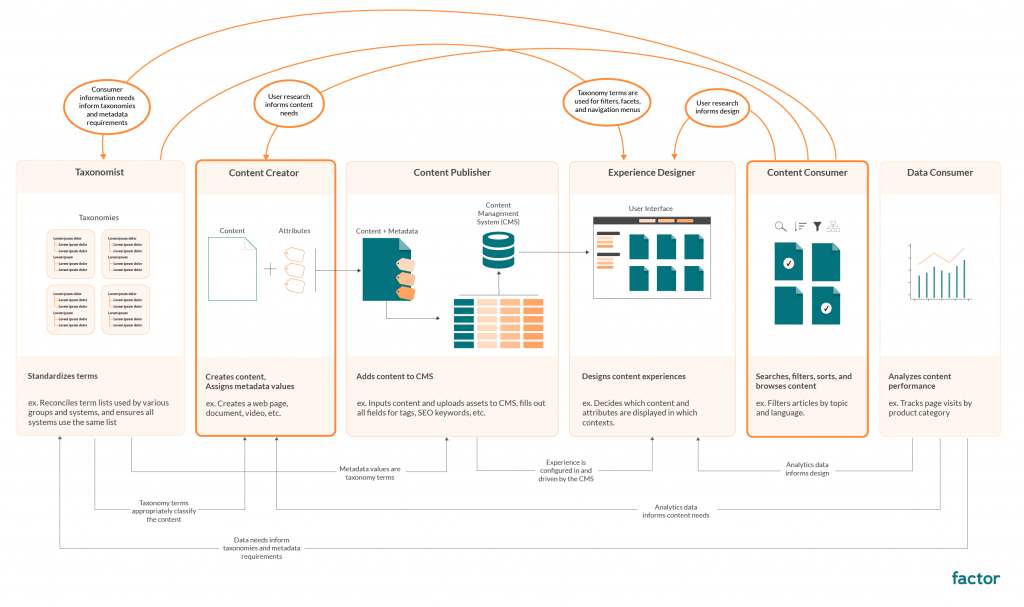 Whew! That's a lot to take in. Let's break it down.
Content Publishing Roles
Each column represents someone's role in this process, with an example of a task a person in that role would carry out. (Hopefully it goes without saying that people in these roles do more things than what I've included as examples.)
Taxonomist: Standardizes terms (ex. Reconciles term lists used by various groups and systems, and ensures all systems use the same list)
Content Creator: Creates content (ex. web page, document, video), assigns metadata values (ex. sets the publish date, content type, audience, topic)
Content Publisher: Adds content to CMS (ex. Inputs content and uploads assets to CMS, fills out all the metadata fields, SEO keywords, etc.)
Experience Designer: Designs content experiences (ex. Decides which content and attributes are displayed to which users in which contexts.)
Content Consumer: Searches, filters, sorts, and browses content (ex. Filters articles by topic and language.)
Data Consumer: Analyzes content performance (ex. Tracks page visits by product category)
Note that key roles left out of this diagram include developers, systems admins, and data governance stewards.
Metadata, Attributes, and Taxonomies
I'll try to explain what I mean by some of these terms in this context:
Find a file on your computer. Right-click and select "Properties." (If you're using a Mac, right-click and select "Get Info.") See all that information? Type of file, Opens with, Location, Size, etc? That's metadata. It helps your computer, and hence you, find and manage files. Some of it is generated automatically, like the date you created a file. Other metadata is assigned manually, and that process is often referred to as "tagging."
You may be familiar with HTML meta tags. You can view these for any website by putting your web browser into developer or inspect mode (in Chrome, go to View > Developer > Developer Tools).
The meta tag "title," for example, is a standardized metadata attribute used for the title of the page. The title appears on the page itself as well as in search engine results. 
There is another type of metadata that uses standardized terms for both the type of data (or attribute) and the associated values. Think of an online address form where you select your country from a pick list (or dropdown menu). The terms in the pick list may be derived from a controlled vocabulary, or taxonomy. Limiting user input to a controlled vocabulary ensures consistent and standardized data.
To break it down even further, let's look at the example of selecting the language associated with a piece of content:
Language –> [List of Languages] –> English
Language is the attribute, the list of languages is a taxonomy, and the selected value for a particular piece of content is the attribute value (or the "tag").
A list of languages is a pretty standard taxonomy, but content, product, and marketing taxonomies are highly specific to the organization using them. They will be customized to the needs of the content consumers who need to find the content, as well as the content managers who need to track the performance of the content.
When publishing in a content management system, or "CMS", the content tags applied to pages and assets are available in pick lists. The values in those pick lists should come from a taxonomy.
Information Flows
To illustrate the relationships between the activities performed by people in the roles mentioned above, as well as where taxonomy fits in, I've drawn arrows between them and labeled the arrows as follows:
Taxonomist → Experience Designer: Taxonomy terms are used for filters, facets, and navigation menus
Taxonomist → Content Creator: Taxonomy terms appropriately classify the content
Taxonomist → Content Publisher: Metadata values are taxonomy terms
Content Publisher → Experience Designer: Experience is configured in, and driven by the CMS
Content Consumer → Experience Designer: User research informs design
Content Consumer → Content Creator: User research informs content needs
Content Consumer → Taxonomist: Consumer information needs inform taxonomies and metadata requirements
Data Consumer → Taxonomist: Data needs inform taxonomies and metadata requirements.
Data Consumer → Content Creator: Analytics informs content needs
Feedback, Questions?
I'd love to hear what you think of this! Was it helpful? Confusing? Did I miss anything? Leave a comment below!