"Big Data" is one of the biggest buzzwords in corporate, academic and media circles these days. In discussing Big Data, the premise is to identify difficult challenges we can address now that we have enormous amounts of data and enough distributed computing power to perform deep analysis of it.
Yes, we have the data, we have the processors but are we identifying the right challenges? I'm thinking about the really difficult content challenges analogous to Big Data dilemmas. Visiting my alma mater, Reed College, for a recent career mentoring event, challenging content was the center of our discussion.
In the previous year, I was a mentor at the Startup Lab event, and my mentee was Emmanuel Enemchukwu, a Reed student from Nigeria. His Startup Lab idea was a plan to get courseware into the hands of high-school students in Anglophone West Africa through mobile phones.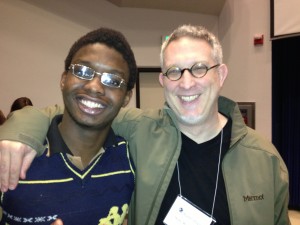 Great idea. And it poses enormous content strategy and governance challenges. Here you have a vast corpus of dynamic content that has to be carefully curated and maintained each school year. It has to be chunked to simulate exam conditions, but also has to be formatted for distribution in an environment where almost none of the audience has PC's, tablets or the latest high-end big screen smartphones.
This challenge is of a scale and complexity I would call Hard Content.
Emmanuel pitched his idea to a panel of Portland area angel investors. While he didn't win the Startup Lab's prize that weekend, he persisted in developing an idea he is deeply passionate about. When I met with him again this year, he had just won a US $10,000.00 grant from Projects for Peace.
The next challenge for Emmanuel is considering not only how to build the startup plan but how to model the governance for a vast amount of content before a design or build begins. I'm excited to track his progress and see how he melds the concept of Hard Content with what's essentially a "Lean Startup" model. Designing for good is always inspiring, designing good content systems is a challenge worth accepting.
What are you biggest content challenges and how do you address them? Tell us more here or share your challenge with @factorfirm.com on twitter and we'll feature them in the follow up!